What can we design for you today? Talk to a building specialist to learn more. 1-888-449-7756
Buying a Steel Building in Ohio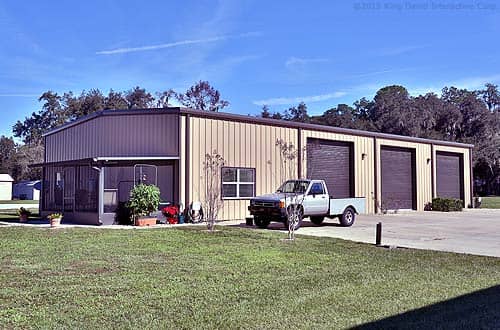 Ohio is the land of choices and options. That extends to steel buildings too. No matter the purpose, no matter the budget, you will find a steel building for a variety of purposes and different applications.
Steel buildings are more affordable than other types of buildings, but often get the short end of the stick when it comes to appreciation. Either because of a lack of awareness or an absence of information, plenty of individuals and businesses do not know about the many benefits steel buildings bring to the table.
This handy guide will try to remedy that. Here, you will learn:
What makes steel the best construction material
The benefits of steel buildings
The different steel buildings that you can buy in Ohio
And, the best place to get them.
By the time you finish reading this guide, we hope to leave you with a better understanding of how steel buildings are better than their wooden and brick counterparts.
Table of Contents:
What makes steel the best construction material?

Most durable construction material
Good conductor of heat and electricity
Low thermal expansion
High tensile strength
Easy fabrication
Cost-effective
High-density metal
Longer lifespan
High weight-to-strength ratio
Most recyclable material on earth

What are the benefits of using a steel building?

High customization
Build to precise specifications
Quicker construction
Lower costs of construction and maintenance
Easy relocation
Energy efficient
Eco-friendly buildings

Which steel buildings can you buy in Ohio?

Airplane Hangars
Barndominiums and Houses
Barndominium
Cabins
Cottages
Modular Homes
Pool houses
C-Chanel Buildings
Cannabis Grow Buildings
Canopy Buildings
Churches
Commercial Buildings
Data Centers
Farm buildings
Industrial Buildings
Military Buildings
Public facilities
Recreational buildings
Residential buildings

Where to find the best steel buildings in Ohio?

Our steel is the best in the industry
Precision design means a perfect fit
Quality construction means quality peace of mind
Olympia Steel Buildings
What makes steel the best construction material?
The most striking aspect of steel is how versatile and functional it is. Steel is a durable and versatile material that can be used in many applications. It can be used in construction, making it the most popular building material in the world.
Most durable construction material
Steel is the most durable and most robust of all construction materials. It is ten times stronger than concrete, a hundred times stronger than wood, and three times lighter too. Steel can withstand stresses that would cause other metals to bend or break.
Good conductor of heat and electricity
Steel is an excellent conductor of both heat and electricity. It's a popular choice in construction because it can both carry the weight of heavy loads and withstand the stress from high winds. The ability to withstand heat and electricity ensures that steel buildings are the safest buildings to live in.
Low thermal expansion
Steel has low thermal expansion. It resists cracking even when it's subjected to extreme temperature changes. It is also resistant to corrosion and can last a long time without being damaged by the elements, making it an excellent material for buildings and bridges.
High tensile strength
Steel has the highest tensile strength of any metal, which means it can hold heavy loads without deforming. The material's load-bearing capabilities are second to none. By using steel, a strong and durable building can be created. In fact, steel is used in construction because it is resistant to the elements and can be recycled or re-purposed after the project has ended.
Easy fabrication
Steel is often used for construction because it is so malleable that it can be easily fabricated into any shape, size, or thickness. It has an array of design options and is one of the most versatile materials for fabrication. Steel can also be shaped by cutting, drilling, and punching holes through it. Its low density and high strength further enhance its value as a terrific material for building.
Cost-effective
Steel is a metal that is manufactured with less energy than other metals like copper or aluminum. This means steel costs less to produce and is cheaper when it comes to the cost per ton. Using steel materials can bring down the cost of building by a significant proportion.
High-density metal
Steel's high density means that it takes up less space than other materials, making it an economical choice for construction projects where space is limited. This makes steel perfect for use in multiple construction areas, such as building facades, roofs, bridges, etc. The high density of steel makes it an economical choice when you need to save space.
Longer lifespan
Steel is a solid and inexpensive material that has many practical uses. One of these advantages is that it does not rust like other metals such as iron, aluminum, or copper. Steel can last for decades without needing to undergo maintenance, and new steel can be manufactured from recycled steel.
High weight-to-strength ratio
Steel's weight-to-strength ratio is higher than any other material, making it the best choice for structures built in seismic zones prone to earthquakes and areas. It is one of the strongest materials available, even though it can be heavy. Steel is much easier to transport and work with on a construction site.
Steel's lower weight also means that it can be used in taller buildings without needing an expensive, heavy foundation. For this reason, steel has been used in various structures, including bridges, skyscrapers, and stadiums. Because it offers more resilience than other materials like concrete, it is typically used in areas prone to seismic activity, such as earthquakes and tsunamis.
Most recyclable material on earth
Steel is one of the most recyclable materials on Earth. When steel is recycled, it can be reused over and over again, saving money and reducing the environmental footprint of traditional recycling methods. Steel recycling saves up to 95% in energy usage compared to iron ore mining, making it an environmentally friendly option for businesses that are interested in going green.
What are the benefits of using a steel building?
Steel building construction is one of the most popular types of buildings in the world. It has plenty of advantages over other building materials that make it an excellent choice for construction. Some of these advantages include the following:
High customization
Steel buildings are known for their high customization options. The steel industry can provide a wide range of profiles, shapes, sizes, and construction methods for builders and architects to customize their buildings. Steel can be cut and welded to create any shape and size of establishment. The steel building process also allows more windows and doors to be installed. Steel frames, which are the backbone of a steel building, are what hold the building together.
Build to precise specifications
The prefabricated steel structure is created in the factory by cutting, bending, and welding together sections of steel. The sections are cut to the precise specifications that have been requested by the customer. The pieces are then welded together at joints that have been prefabricated to create a strong, durable structure. This allows the customers to get a steel building that is not only highly personalized but also unique to their needs and requirements. And steel buildings offer more flexibility in design, so you can create a space that meets your needs.
Quicker construction
Steel buildings have shorter construction times because they don't need to wait for concrete to dry or for the building to go through the curing process. This means that you can be up and running much sooner than with other types of construction. Typically, steel buildings don't require additional foundations and can be installed on-site. And now, with the use of computers, they can be constructed in a shorter amount of time than ever before.
Lower costs of construction and maintenance
Steel buildings are less expensive to construct than other types of buildings. Steel buildings are also more durable than other types, so they will last longer and require less maintenance over time. They do not need to be painted or repainted as often as other building materials. They also require less maintenance because they do not have any wood that can rot, warp, or splinter like in wooden structures. A simple, low-cost rust-proof coating every few years is what you need to maintain your steel buildings.
Easy relocation
The steel buildings are built in a modular form, meaning that they can be taken apart into smaller pieces and then reassembled in another location. This is possible because of the steel frame structure, which is also forceful and durable. The steel frame has internal as well as external columns, which together provide the necessary support for the building's roof, walls, flooring, and other structures. All are dismantled and moved to another location whenever required.
Energy efficient
Steel buildings are the most energy-efficient buildings available. Steel is a material that can be used in all types of building applications. It can be used to construct a building's frame, exterior, and interior. Steel frames are more durable than wood frames because they require less maintenance and repairs.
With better insulation properties and airtightness than other materials like wood or concrete, steel buildings ensure that they use less energy for heating and cooling because of their high thermal conductivity and low thermal resistance compared to other materials like wood or concrete.
Eco-friendly buildings
Steel buildings are more environmentally friendly than other types because they do not use wood or stone as their primary material and do not emit any greenhouse gases. The construction of steel buildings also has a much lower environmental impact than other types of construction. Steel is an abundant and recyclable material, so in the long term, steel construction saves valuable resources that would otherwise be consumed in the production of new materials like concrete. Furthermore, because it is also recyclable, it does not create any waste during construction or demolition like some other building materials might.
The steel industry has been developing new ways to make the process of manufacturing steel more environmentally friendly by reducing emissions during production and recycling scrap metal into new products instead of sending it to landfills.
Which steel buildings can you buy in Ohio?
Here are some of the types of steel buildings that you can buy, along with reasons that make steel buildings a superior choice:
Airplane Hangars
Airplane hangars are where airplanes and helicopters are parked and serviced. Think of them as your aircraft's home. Airplane hangars have to be durable, fireproof, and withstand turbulent winds and torrential rains. The aviation facilities our skilled engineers create can house any plane, no matter how big or small, and ensure that they are safe inside the hangars.
Our airplane hangars are a functional mix of swift construction, durability, and the ability to expand in size and scale. They have column-free interiors of up to 200 ft in width and unlimited length. Having an almost column-free design allows aircraft inside the facility to be moved with ease around the perimeter of the hangar. Whether you need to store a fleet of helicopters, a fleet of jets, or a fleet of single-engine planes, our hangars can accommodate and fulfill your needs.
Barndominiums and Houses
The best thing about using steel to build houses is the versatility it offers. Steel houses are made from metal sheets that are assembled and held together with steel beams. This building material is durable, affordable, and can be designed to suit virtually any style or need. Steel houses also allow for greater architectural freedom and can be constructed in a variety of ways.
Barndominium
A barndominium is a prefabricated building that is made of wood and metal. It has a pitched roof and is mounted on a concrete slab. They were typically located on farmland and were often used as vacation homes. The word "barn" refers to their design, which resembles a traditional barn with living space above and below the first floor.
Cabins
A cabin made of steel is a cost-effective way to build a cabin. The materials and construction process are also much easier than building a cabin out of logs. Steel is an excellent material for building cabins because it's strong, durable, and fireproof. Steel can be molded into any shape or size that you want, so it's the best choice for cabin builders who want to create something unique.
Cottages
Steel cottages are made of sustainable steel and can be assembled in one day. These cottages have been proven to last up to 30 years with proper maintenance. Steel is one of the most recyclable materials on the planet, so it's not a surprise that these cottages are eco-friendly too. Steel is also cost-effective, which makes it perfect for those who have a tight budget or want to build their dream home on a shoestring budget.
Modular Homes
Steel modular homes are a terrific option for people who want to live in an eco-friendly home that is built with sustainable materials. They can be transported to a site and assembled quickly, which means you can save money on labor costs. Steel modular homes are also more environmentally friendly because they use recycled materials, and they typically require less energy to manufacture. These homes can also be easily customized to suit your needs, which is not possible with traditional homes.
Pool houses
Pool houses made of steel are becoming more popular because they are durable and easy to maintain. Steel is a durable material that can be repaired and replaced when required. Because steel has a high insulation factor, pool houses made of steel will stay cool in the summer and warm in the winter.
C-Chanel Buildings
Fancy buildings use plenty of materials, but that's not always the best. Every so often, you want the opposite. C-channel buildings are basic buildings without bells or whistles. They go up faster and are cheaper too. The C-channel buildings are strong and can be used for a variety of purposes, including:
Storage sheds
Tool sheds
External garages
Equipment storage
And, more.
We take a DIY approach to our steel-based C-Channel buildings. Our buildings come with an easy-to-follow manual for assembling and erection. These structures will increase the value of your house or company and are backed by the same guarantees as our bigger structures. C-channels, like our clear-span steel structures, include a hundred percent useable interior area and may be outfitted with a wide range of optional extras to increase their aesthetic appeal.
Cannabis Grow Buildings
A Cannabis Grow Building is a structure that supports the cultivation of cannabis plants. The building can be made of steel, wood, or any other material depending on the needs of the grower. But steel is the material of choice among several Cannabis growers, and for good reasons. Steel is strong, durable, and fireproof, but also pest-resistant, which makes it perfect for cannabis grow houses.
Our Steel Cannabis Grow Buildings include everything needed to cultivate cannabis, including ventilation and lighting systems, lighting components, irrigation and growth tables, dehumidification and CO2 monitoring systems, and more.
Canopy Buildings
Steel canopy buildings are a superior alternative to traditional buildings made from concrete and brick. They can be constructed in less than one month and require little to no maintenance. They also have a longer lifespan and can withstand natural disasters such as earthquakes or hurricanes.
Our steel canopy buildings can be used for:
Gazebos
Car ports
Shelters
Amphitheaters
Pavilions
And, more.
Churches
Steel is a strong, versatile material that can be used in a variety of architectural styles. This makes it perfect for building churches. It is especially popular in modern and contemporary architecture, where it is often used structurally or to span large spaces such as auditoriums and sports facilities. The design of your church should be focused on attracting new members and keeping the faithful who are already there. You want every part of your church—from the altar to the choir loft—to have an exquisite visual style. Our steel church buildings can provide you with all that and more.
Commercial Buildings
Steel makes a terrific choice for commercial buildings because it can be used for both load-bearing structures and non-load-bearing structures. Recycled steel structures are more sustainable and cost-effective than new structures made from industrial materials like concrete and glass, which require more input materials. Commercial buildings made of steel are easy to assemble and maintain. Steel commercial buildings can be used for:
Office buildings
Strip Malls
Warehouses
Factory outlets
Delis and Diners
And more.
Data Centers
Data centers are infrastructures that process and store large amounts of data. Considering the magnitude of their impact, it is crucial that they be ecologically viable. And what other material is better for creating data centers than steel?
Steel has high thermal conductivity and can help with cooling the servers inside the building, making it a de facto choice for data centers. Steel is often used to build and maintain large buildings, such as power plants and wind turbines because it is better at transferring heat than other materials. The metal also has low density and high strength properties, which make it an ideal material for construction. Additionally, the steel used in these data centers can be recycled, which reduces the environmental impact of these facilities.
Farm buildings
A major threat to any farm building is fire. You would rather not have your produce in your farm buildings burn and perish. Steel buildings also offer better protection against fire than their wooden and brick counterparts. Farm buildings made of steel also reduce the chances of pests or vermin getting inside the structure and damaging the crops stored there. They can also withstand extreme weather and temperature changes that would cause other building materials to deteriorate.
Steel farm buildings can be used for a variety of purposes, such as:
Grain and crop storage
Harvester storage
Tractor storage
Livestock shelter
And, more.
Industrial Buildings
Industrial buildings that use steel as the primary material can be used for a variety of purposes. They can be used as manufacturing plants, warehouses, storage facilities, distribution centers, or even offices. These buildings are usually low-rise and have a large footprint, which makes them ideal for warehouse storage or manufacturing plants.
The cost of these industrial buildings is also much lower than that of other materials like brick or wood because they require less maintenance and use less energy to cool down in the summer.
Military Buildings
Military personnel can be trained in these buildings, which are often designed to simulate real-life combat situations. Civilians also benefit from steel military buildings because they provide a safe space for people to take shelter during natural disasters. Steel military buildings are more resilient to natural disasters than traditional wooden structures, which can be destroyed by storms and fires. Steel is also resistant to corrosion and damage from water, so it lasts longer than wood.
Public facilities
Public facility buildings are made of steel to ensure that they are fire-resistant and durable. Steel makes it easier to install and replace equipment, which is an important consideration when you're designing a public facility building. Installing structural steel in a public facility building can take as little as one day and can be done with minimal disruption to the construction process.
Steel is also virtually indestructible—it's nearly impossible to destroy steel by any conventional means, making it the perfect material for public facilities such as:
Fire station
School buildings
Ambulance storage
Police car garage
Impound lots
Recreational buildings
Steel buildings are increasingly becoming a popular choice for recreational buildings. They are also aesthetically pleasing and can be designed in any shape or size. Steel buildings can have a width of up to 200 feet, meaning that there will be no support poles or beams in the way of your basketball or volleyball goals or even your in-ground pool. Recreational buildings can be used for:
Gymnasiums
Sports Arenas
Indoor tennis courts
Indoor basketball courts
Driving ranges
And, more.
Residential buildings
Steel buildings are known for their durability and longevity, making them an ideal building material for commercial, industrial, as well as residential applications. They are rugged and light-framed structures and offer better protection against natural calamities like storms, hurricanes, and earthquakes. They do all this without compromising on style and design. Steel has a better ability to resist corrosion than concrete, so it has a lower carbon footprint. It's also cheaper and easier to maintain over time.
Where to find the best steel buildings in Ohio?
Olympia Steel Buildings is the leading supplier of steel buildings in Ohio. We offer precision design, premium-grade steel, and precise engineering to create steel buildings that are built to last.
Our steel is the best in the industry
We use only premium-grade steel in our construction. Our steel is one of the most durable and reliable in the industry and comes with a limited 40-year warranty on paint against chipping, cracking and fading.
Precision design means a perfect fit
We offer precise designs that will make sure your building is just what you need. All our steel buildings are engineered with perfection—so they're more structurally sound than other builders out there. This means you'll have fewer repairs and lower maintenance costs over time. From large warehouses to small garages, we have you covered.
Quality construction means quality peace of mind
We take pride in our workmanship and understand how important it is to provide you with a high-quality steel building that delights you. We back this up with a 40-year warranty on paint for peace of mind. Our top-notch construction team is dedicated to quality, not quantity. We take our time to make sure every detail is perfect.
Olympia Steel Buildings
We have been in business for over 40 years. We are a highly experienced and knowledgeable team that can help you with all your steel-building needs. We craft every building with loving care and attention to detail, no matter how big or small.
We offer competitive pricing, and our buildings are always delivered on time and within budget.
We know steel buildings better than anyone, so we can provide you with the best advice on what type of building will work best for you.
---
©2009-2023 King David Interactive Corp. All Rights Reserved. | CALL TO SAVE NOW! 1-888-449-7756