What can we design for you today? Talk to a building specialist to learn more. 1-888-449-7756
Our Buildings Easily Support Solar Panels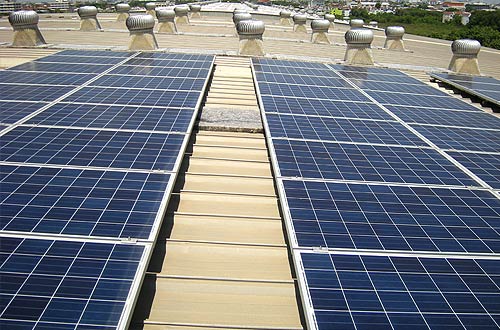 Benefits of solar panels
Lower heating and electricity bills
Green, reusable source of energy
Safe for environment
Solar panels are recyclable
You may qualify for the 30% Federal Tax Credit
And much more!
Let's Talk
Our consultants are eager to meet with you, so give us a call today to set up an appointment or request an online quote below.
---
About Solar Panels
Solar panels provide a clean and renewable source of power for your steel building by absorbing the sunlight as a source of energy to generate electricity or heat. When sunlight shines on the cells, electrons are knocked loose from their atoms, causing them to flow which generates electricity.
Solar panel installations are becoming more popular because prices have become more economical for businesses and family's budgets. Some solar panel systems also qualify for the 30% Federal Tax Credit.
With the use of mounts, rails and clamps, installation of solar panels on your steel building is quick and easy.
All Olympia steel buildings feature
Engineering
to last a lifetime
40-Year
Limited rust-through perforation warranty
40-Year
Limited warranty on paint
Why People Choose Olympia
Years of metal storage building design experience
providing quality products at savings of up to 50% over conventional construction.
40-year limited rust-through perforation warranty
on 26 gauge AZ55 Galvalume® PBR roof panels.
40-year limited warranty on paint
on the siliconized polyester colored coating for walls and trim.
Efficient scheduling
delivery and community freight to reduce delivery costs and save you money.
Precision design
meeting or exceeding industry standards.
Made in America
meeting or exceeding industry standards.
©2009-2023 King David Interactive Corp. All Rights Reserved. | CALL TO SAVE NOW! 1-888-449-7756