What Can We Do For You
The Olympia Steel Building Experience Means Exceptional Quality and Care
Superior Customer Service
With Olympia Steel Buildings, there is no waiting period. Have your metal building erected in no time.
Our technicians will respond to your inquiry, discuss your needs and have your building priced to your specifications within 24 hours. Let's get building. Call 1-888-449-7756 to save now.
Precision Design
We create exceptional designs for Garages, workshops, storage buildings, metal shops and more.
Our State-of-the-art computerized drafting and design technology ensures we meet or exceed all industry standards. Engineered permit plans, erection drawings and an easy-to-understand building manual are provided with every building.
Quality Materials
Our pledge at Olympia is to provide the highest-quality steel building materials and the workmanship available in the industry.
Do It Yourself Option
Do it yourself and save. Simple, straightforward DIY erection procedures with our metal building kits, along with our technical assistance will have your building up in no time.
Efficient Delivery
Greatly reduce the delivery cost of your steel building with community freight and share-loading.
Construction Services
We develop plans that meet your requirements and employ techniques that utilize immediate and long term benefits.

All Olympia steel buildings feature
Engineering
to last a lifetime
40-Year
Limited rust-through perforation warranty
40-Year
Limited warranty on paint
The Olympia Steel Buildings Advantage
Made of Steel. Built on Service™
At Olympia Steel Buildings, designing and building is our passion. Regardless of your project size and scope, We offer complete, cost-effective metal and steel building solutions for a wide array of applications.
Our portfolio includes: garages, warehouses, industrial complexes, livestock shelters, airplane hangars, churches and much, much more.
While our projects may vary, our goal remains the same—to help you realize your vision and get the best return on your investment. Whether you need metal buildings for commercial, agricultural, industrial or residential use, we provide pre-engineered steel buildings for sale at competitive prices.
We Don't Just Promise Great Service—We Deliver It.
When you choose to work with Olympia Steel Buildings, you're choosing to work with a highly experienced steel building company, recognized for superior workmanship and a friendly, knowledgeable team. Rest assured, your project will be built to your complete satisfaction.
All of our steel and metal buildings come with a 40-year limited rust-through perforation warranty on AZ55 Galvalume® roof panels and made right here in America. Since we provide flexible green building design, you can incorporate any custom feature as well as contemporary aesthetics.
The end result is a beautifully designed, sustainable and virtually maintenance-free steel building that will last you a lifetime.
Let's Get Started!
What can we design for you today? Talk to a building specialist now to learn more.
1-888-449-7756
Answer a few simple questions and receive a free price estimate for your building.
Frequently Asked Questions Asked by You, Answered by Us
Are Steel Buildings Cheaper than Wood?
Metal is typically cheaper than wood buildings. According to industry trends, steel buildings are roughly $18-25 per square foot, whereas wood buildings can go up to $40 a square foot. Steel Buildings also are much less maintenance and last much longer making them more cost-efficient. If you want to get an exact cost, Olympia can provide a free new building estimate here.
How Long Do Steel Buildings Last?
Olympia Buildings come with a 60-Year limited structural warranty and 40-year limited rust-through perforation warranty on AZ55 Galvalume®, the 40-year limited paint warranty, and the limited lifetime product warranty.
Why Are Olympia Steel Buildings the Best?
Olympia is an award-winning company when it comes to Steel Buildings, winning the STAR Award in 2019, The American Welding Standard Certification, and Energy Star Manufacturer Certification. In addition to this, our Customers love us!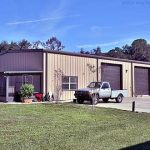 Ohio is the land of choices and options. That extends to steel buildings too. No matter the purpose, no matter… [Read More…]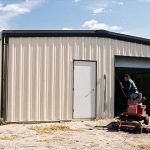 At Olympia Steel Buildings, we do more than just design structures. We partner with our West Virginia clients to create… [Read More…]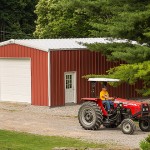 As much as steel buildings are the most cost effective building options available, it is still a pretty big investment… [Read More…]
"The building is great! Stuart was great to deal with, returned calls right way, worth every penny. Glad I did not do pole building, there is no pole building that even comes close."
John M. - New York. See more customer testimonial videos
©2009-2023 King David Interactive Corp. All Rights Reserved. | CALL TO SAVE NOW! 1-888-449-7756
Privacy Policy