What can we design for you today? Talk to a building specialist to learn more. 1-888-449-7756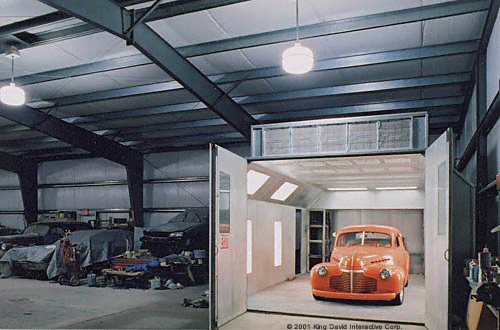 When it comes to collectors of classic cars, it will always be important to have a safe place to store them while they're not in use. For many, they are a great investment into something they love, but upkeep can be expensive and it will be important to keep them in good condition for as long as you can. From Fords to Chevys, there are tons of different types of cars you can buy and collect whether you drive them on a regular basis or not – or at all. Steel buildings come in all kinds of shapes and sizes, so it will be important to pick the kit that best suits your collection. For many collectors, the size of their collection might increase over time, so you might want to choose a structure that can accommodate that in the long run so you don't have to renovate or replace your entire structure later on down the line. Here are just a few reasons why steel buildings make the best classic car storage on the market.
Fast Construction
The good thing about steel buildings is how fast these structures can be put up! If you've purchased or remodeled a classic car recently, you'll need a secure spot for it to go sooner rather than later. A building project that would normally take months to finish can be done in a few weeks and sometimes even days depending on how large of a garage you're looking to build. This means you'll be better able to put your car into storage much quicker than with more traditional materials like concrete or brick.
Protection
Steel  garage buildings provide the kind of superior protection that is important when it comes to classic cars. These vehicles are generally expensive or have had a lot of money's worth of work put into them, so keeping them in a structure that is extremely strong and durable is an important way to make the most of your investment. Whether you take it out for a spin every so often or not, you will of course want somewhere safe to put it in the meantime.
Low Maintenance
Due to steel's natural strength and durability, your building will last much longer periods of time without needing any kind of regular maintenance or repairs. This is excellent because it allows you to focus any of your fixing on the car itself instead of the structure. Also, that means your structure won't be prone to punctures or protruding parts that might damage the cars you have stored inside. Not only will you save time in this regard, but money as well. Regular maintenance is something that can add up quickly in cost, so not having to do it as often for your steel building means you can put this money back into the car's maintenance instead.
Cost Effective
Steel structures are one of the most cost effective building options on the market, and you can hope to save around 30% compared to the cost of raw materials to building the same sized garage structure. Saving money on the structure itself gives you more of a budget to put back into the maintenance and upkeep of your classic car which will work out much better in the long run.
For more information on our steel buildings, call us at 1-888-449-7756
---
©2009-2023 King David Interactive Corp. All Rights Reserved. | CALL TO SAVE NOW! 1-888-449-7756