What can we design for you today? Talk to a building specialist to learn more. 1-888-449-7756
Insulating a Steel Building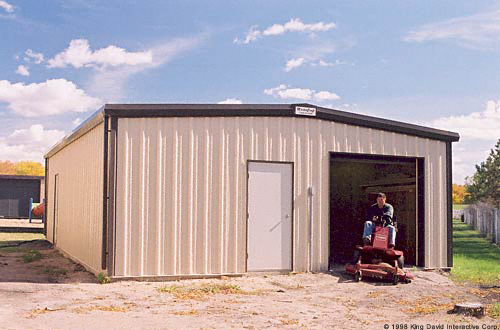 Best Way To Insulate A Steel Structure
Depending on what you'll be using your steel building for, you may or may not be spending a lot of time inside of it. If your steel structure is being used for anything other than strictly storage, like a commercial space, having proper insulation will be of the utmost importance. Even depending on what you're storing, regulated temperatures are imperative to maintaining everything inside the structure. There are actually quite a number of ways you can insulate a steel structure to maintain protection from the elements, warmth and to reduce energy use and subsequent costs. Steel panels offer protection from the elements due to strength, but not much against varying temperatures. Insulation will ensure the temperature inside is much more regulated, keeping relatively cool in warmer months and staying warm in cooler months.
Rigid Board
Rigid board is general made from polystyrene, polyurethane or fiberglass. Best used on flat surfaces, the material is pre-cut after choosing the desired thickness for use. Rigid board will still requires some type of facing with flame retardant materials for interior walls, and weatherproofing for exterior walls. One of the less expensive options, its flat shape and how it's cut makes it difficult to fit into certain oddly-shaped spaces and crevices and will likely require additional caulking to be fully effective.
Loose Fill
Blown into the steel frame using special equipment, this type of insulation is made up of loose pellets that provides protection against air leakage, has better soundproofing capabilities and can fit into corners much easier than other types of insulation. This is a great option for taking advantage of environmentally conscious building perks like tax credits and refunds, as the material is made from treated newspapers that make it flame retardant and resistant to moisture. Loose fill is one of the more expensive options, due in part to its precision and flexibility as a material that can fit in unconventionally shaped spaces that sheet insulation is unable to go.
Spray Foam
Likely the most expensive type of insulation is also the most precise. Beginning as a liquid mixture of a foaming agent and a polymer, the substance is sprayed into walls, ceilings and floors where it expands and takes on the form of the steel frame. This makes it easier for the insulation to assume the shape of corners, unusual layouts and other small spaces and create a completely airtight seal. Not only does spray foam insulation provide the perfect air barrier, but it does not require any additional caulking after application.
Batt & Blanket
Definitely the least expensive and perhaps the most commonly used for insulation are Batt and Blanket. Both types are made from processed fiberglass or rockwool and its density makes it very effective, but it must be installed carefully in order for this to be the case. While Blanket insulation is available in rolls cut to specific sizes, Batt insulation comes in lengths of 4 – 8 ft., and both come in a variety of thickness levels. When thinking about the best type of insulation for your structure, keep in mind that you can use a combination of insulation types depending on what parts of the structure you're looking to protect from the weather.
---
©2009-2023 King David Interactive Corp. All Rights Reserved. | CALL TO SAVE NOW! 1-888-449-7756