What can we design for you today? Talk to a building specialist to learn more. 1-888-449-7756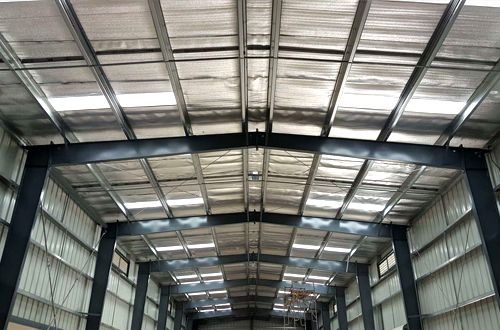 Add-Ons You Shouldn't Forget For Steel Buildings
Steel buildings are by design durable and practical. Able to satisfy a wide variety of uses, they're more than useful enough as is once they're built. With their simple construction, our buildings can be put together in a matter of days and leaving behind virtually no waste and eliminating the need for a large clean up. This leaves plenty of extra time, resources and manpower to putting additions into and onto the steel structure to get the most out of it as you possible can.
Insulation
Adding insulation to you steel structure is important for a number of reasons. Though steel does have natural properties that help it fight excessive heat as well as keep the appropriate amount of heat inside the structure, insulation is always the best next step especially if the building is being used to store temperature-sensitive items like livestock or fresh produce. Insulation works to keep condensation in your steel structure at bay, the type that can accumulate during times of extreme climate change. Keeping moisture from seeping into the structure of your building helps it last longer without  constant rust treatment or maintenance. Steel buildings can sometimes be noisy, and uninsulated buildings even more so. Insulation is an important factor in sound absorption inside your structure, which is extremely important if you have a loud working environment inside. Noise from appliances, tools or audio equipment are much less harsh when you have the right insulation for your building, creating a much more comfortable work environment. Probably most importantly, insulation keeps the temperature of the structure even more regulated than steel siding alone – contributing to lower utility bills as heating and cooling appliances won't need to expend as much energy to maintain a particular temperature.
Lighting
Believe it or not, lighting may be one of the most important additions you make to your structure. It's important to add the right type of lighting to your steel steel building not only to make sure it's perfect for your needs, but also energy efficient. Take into consideration the type of work that will be done in the steel structure to gauge just how much lighting you'll really need and how much of that can actually come from natural light instead. In steel buildings that will be used as any type of workspace, it's good to have a variety of lights both stationary and even lamp options – especially if you work closely with electrical parts and other kinds of wiring that requires a well-lit work space. Keeping the size of the building and height of the ceiling in mind will also help you narrow down the type of lighting you should be using.
Windows
Windows are a great add-on to steel structure, regardless of what it's being used for. Steel buildings used as retail or work spaces benefit greatly from the natural light that comes in – offsetting the need for lots of additional lighting. Due to the way our steel buildings are engineered, requested windows be a part of the final product is not complicated.
Regardless of what additional features you hope to include in your steel buildings, it's imperative to discuss them in the beginning of the process so you're aware of the best methods to make them a part of your structure.
---
©2009-2023 King David Interactive Corp. All Rights Reserved. | CALL TO SAVE NOW! 1-888-449-7756