What can we design for you today? Talk to a building specialist to learn more. 1-888-449-7756
Storage Sheds, Garages & Workshops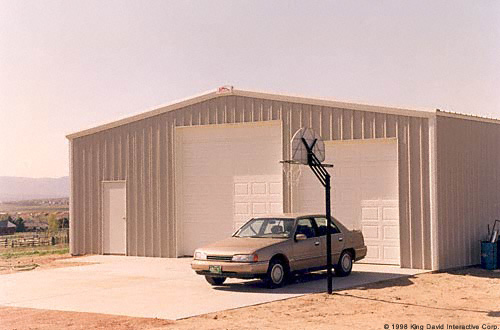 Different Uses For Steel Buildings
Steel buildings are a very versatile way to create the exact type of space you need, but many still see it as being only for storage sheds, garagesand the like but there's many more options and uses for steel buildings that go beyond just that.
With a variety of models available, it's important to know what you're looking for as well as what's available to you; also keeping in mind that there are customization options with some of the models and also the ability to use some of them interchangeably. Here are just a few uses for steel buildings.
Workshop
One of the most common and best known uses for steel buildings is still the workshop and storage shed. Because of the variety of available shapes, ability to customize larger industrial sizes, and ease and speed of construction, our steel buildings are a popular option for this purpose. Our steel buildings can be perfect for auto body shops, metalworking spaces, car dealerships, mini-storage and much more.
Office Space/Retail
Using steel structures for offices is nothing new, and with the right insulation and finish, there are endless interior possibilities to make your office comfortable in the same way as any other traditionally built structure. Our steel buildings can easily accommodate a range of sizes, so regardless of the size of your company and workforce, you can have a high quality steel structure that will last for years to come with little to no maintenance. They also work well as retail locations or storefronts, able to be customized on both the interior and exterior to accommodate a particular brand look and get the most out of your steel structure.
Recreational
Due to the ability to expand to much larger sizes than other steel building providers, our steel structures are perfect recreational spaces and the final design depends entirely on its use. Because of the need for wide open space with high ceilings and free of columns, these models are perfect for this purpose. Inside, the flooring, walls, and rooms or partitions can be customized to fit all of your needs. Whether it's for a tennis court, extra indoor gym facilities, sports arena, skating rink and much more, using a our recreational steel structure model is the perfect fit.
School
Schools can benefit greatly from steel structures as a means of additional classroom, recreation or storage space, either temporarily while undergoing renovation or permanently; as our structures will last for decades to come. Using prefab steel buildings for schools are nothing new, with many schools and campuses having outdoor single or multi-classroom structures in addition to their main building to alleviate the flow of students. Whether from a population boom or a particularly large age cohort, schools often consider steel structures in order to accommodate more students.
Additional Storage
Prefab steel buildings are a great alternative to traditional wood or even plastic storage sheds because of their durability and how quickly they can be constructed. Because they're available in a range of sizes, it's up to you which size works best for your property as well as how much space you actually need. You may need to include insulation based on what you're storing, but choosing a steel building for your structure will still be the most economical choice.
---
©2009-2023 King David Interactive Corp. All Rights Reserved. | CALL TO SAVE NOW! 1-888-449-7756