What can we design for you today? Talk to a building specialist to learn more. 1-888-449-7756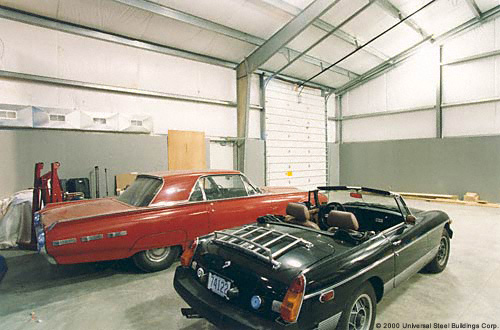 ---
Whether you have one car of a few, there's just something about steel buildings that make the the absolute best choice for a garage or
car storage
building and there's plenty of reasons for that. Most garages are made from materials like concrete or sometimes brick when it's attached to a house and it's important that we consider the ways that these might not be the best way to go. This is especially true if the structure is meant to stand on it's own and isn't attached to a larger building like a residential home. It's also imperative that you think of the ways other than storage you plan on using the building so you can decide on things like the size and even what other kinds of details to add that will make the best use of all of the space you designate for the structure itself. Keep these kinds of things in mind so you can build the best possible car storage for yourself without having to compromise anything. Here are just a few reasons that steel buildings make for the best vehicle storage buildings.
Fast Construction
Prefab steel buildings are quick and generally easy to put together, so this means the building will be done sooner in time for you to have a place for your cars. When building with other more traditional materials like wood, concrete or brick it's a process that takes much longer so it's a much longer waiting period before you have somewhere to put your car. Depending on where you are and what time of year it is, this might be very inconvenient and particularly if you have any type of classic or vintage vehicle.
Flexibility
The great thing about steel structure is that you can have them designed to your specifications so that you can have the space exactly the way you need it. There are a few different layouts and building kits that you can choose from in order to make sure you get exactly what you're looking for from your steel structure. From the size, to the layout and more, you get to decide whether you just need simple storage for your car, or if you'll need extra space for a workbench, shelving and more.
Lack of Maintenance
Probably the best thing about steel buildings is how little maintenance is needed in order to keep them in good shape for years. In terms of car storage, it's important for these structures to stay durable and secure to keep your car safe not only from outside theft or tampering, but also from interior damage of parts of the structure coming loose and coming apart. It's important that the building stay in the best possible shape so that it can do its job.
Durability
Steel of course is a very durable material that is strong and able to stand up to all kinds of weather conditions and forms of impact. They make great car storage facilities because of the security they provide and how long they're able to last before having to be repaired or even replaced. It's likely that any type of vehicle storage you would have, you would want it to last for years; even decades. For more information on our steel buildings, call us at 1-888- 449-7756
---
©2009-2023 King David Interactive Corp. All Rights Reserved. | CALL TO SAVE NOW! 1-888-449-7756