What can we design for you today? Talk to a building specialist to learn more. 1-888-449-7756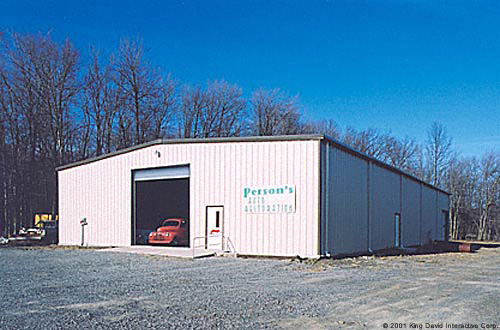 Why Steel Buildings Make The Perfect Wine Cellar
Steel buildings are perfect for many uses from workshops to industrial storage but what about something a bit more recreational? Many homeowners find space within their homes to put in an addition like a bar or cellar. Having this extra space to entertain might be important for said homeowner, but they might not have the appropriate space within their own home to accommodate it. Steel buildings would actually make for the perfect alternative for a number of reasons. Besides it being the world's most recyclable material, steel has tons of properties that make it fit for all types of uses; including a bar or wine cellar.
Temperature
Keeping a regulated temperature is extremely important for wine storage, since keeping wine in a room that's too warm and humid can cause it to begin to oxidize, making it lose it's flavour. On the other end of the spectrum, keeping it in quarters that are far too cold can cause it to go "flat", another state in which it can lose it's flavour. It's important that you take not only steel's natural insulation into consideration, but also think about additional insulation in order to make the most of the space.
Energy
It will be important to do your due diligence to ensure you purchase any appropriate refrigerating systems or cooling units to keep your wine at an optimal temperature. While a regulated interior temperature will make it much easier to keep everything at the right level, your cooling or heating system will obviously have to still use a particular amount of energy. Thanks to steel's ability to keep a regulated temperature, any heating or cooling units you have inside your steel structure will not need to expend as much energy as it would have otherwise.
Size Flexibility
With prefab steel, you have the freedom to place the structure on any part of your own property that works best for you, and in the size that makes the most sense. When you move this storage to be outside of your home, you're not restricted to only specific parts and can only use whatever space is available unless you're willing to do a full-scale home renovation. Even homeowners who plan to do this eventually can benefit from having a prefab steel structure to store their wine or have a home-based bar; even if it's only temporarily. Keep in mind that prefab steel buildings are investments, fully recyclable and can always be used for another purpose if you change your mind.
Customizable Interior
One of the best things about prefab steel is the fact that the inside of the building is fully customizable. With specialized engineering, the possibilities are nearly endless when it comes to a floor plan that works best for you. In a cellar or bar, there will more than likely be a layout you have in mind that will involved walls and other partitions to keep everything organized. This is more than possible with prefab steel structures, allowing you to have the wine cellar of your dreams once the proper storage, countertops, seating etc are added in.
---
©2009-2023 King David Interactive Corp. All Rights Reserved. | CALL TO SAVE NOW! 1-888-449-7756