What can we design for you today? Talk to a building specialist to learn more. 1-888-449-7756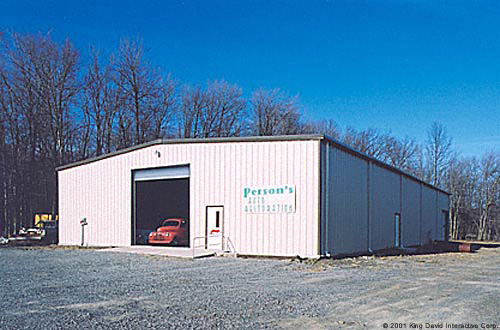 Building The Perfect Auto Shop
Setting up your very own home auto mechanic shop can be a daunting task for anyone, and it's important to note why prefab steel structures are such a perfect choice for auto mechanic shops to begin with. Prefab steel structures are flexible enough in size and layout to meet any of your specific needs for your garage, so you don't have to worry about not having enough space for all your needs. Steel buildings are much easier to construct than other methods like wood or concrete, meaning a shorter and less expensive construction process. Not only will it take days instead of weeks, but there isn't a need to hire special contractors to get the job done – saving you on upfront building costs. Prefab steel buildings also require little to no maintenance once it's finally completed, so it's one less thing to worry about on a long-term basis. With its resistance to pests, there will never be any of the type of damage that wooden buildings are susceptible to. While using a prefab steel structure is a great place to start, there's many other details that go into having the perfect auto shop location.
Proper Insulation
While prefab steel buildings come with a certain level of built-in insulation, it's important to consider additional high quality insulation for a number of reasons. If you plan on working on expensive or classic cars, this type of temperature control will be important so it's not exposed to any type of extreme cold or extreme heat. Also consider if you'll be working in the shop for long periods of time, it will be important for the temperature to be regulated to some degree.
A Comprehensive Tool Set
This should be a no-brainer, but you can't have an effective auto body shop without the appropriate tools. There are specific items that you should start off with, and then build onto it. Every auto shop should have a quality hydraulic jack along with stands in order to get the best possible view under a vehicle. Many brands and companies offer complete mechanics tool sets which include all the essentials like sockets, pliers, wrenches and more. This takes any of the guesswork out of finding individual pieces and items and ensures you'll always have everything you need within arm's reach. It will also be important to have an air compressor and a shop vac to take care of any messes and spills that will inevitably show up.
Good Lighting
Lighting is extremely important since it's imperative to being able to work safely on the vehicles you plan to work on. Not having sufficient lighting can be dangerous not only to the vehicle but to yourself as well. Your best bet for the entire shop is fluorescent lighting that can provide enough light regardless of the time of day or condition outside.
The Right Floors
The fact of the matter is, oil, dirt and other types of grunge is going to end up on the floor just by virtue of it being used for car repair. It's inevitable and is the reason why the material you use for the flooring is so important. You'll want to be able to easily clean the surface, so consider using an epoxy protective coating on the concrete to prevent the oil stains from absorbing and leaving a mark, or tiles that are easy to install and clean later on.
Workbench or Table
Having a centralized place for the tools that you'll be using on a regular basis is important to making sure your auto shop runs smoothly. There should be ample room to store any tools you may need, either on the table itself or close to wall-storage. Think of this area as your command center, so be sure to put it in a spot that makes it easy to maneuver around and goes with the flow of the rest of the shop.
---
©2009-2023 King David Interactive Corp. All Rights Reserved. | CALL TO SAVE NOW! 1-888-449-7756